Captioning into YouTube Live is easy with Streamtext.Net. The setup is just like any other event except you will go to the Cart/Captioning tab under schedule event and select YouTube Live.
In the screenshot below you can see the location where you configure the connection under YouTube Live Options.
Note: You cannot caption to YouTube with Cprint it is a document based platform that does not send sequential captions.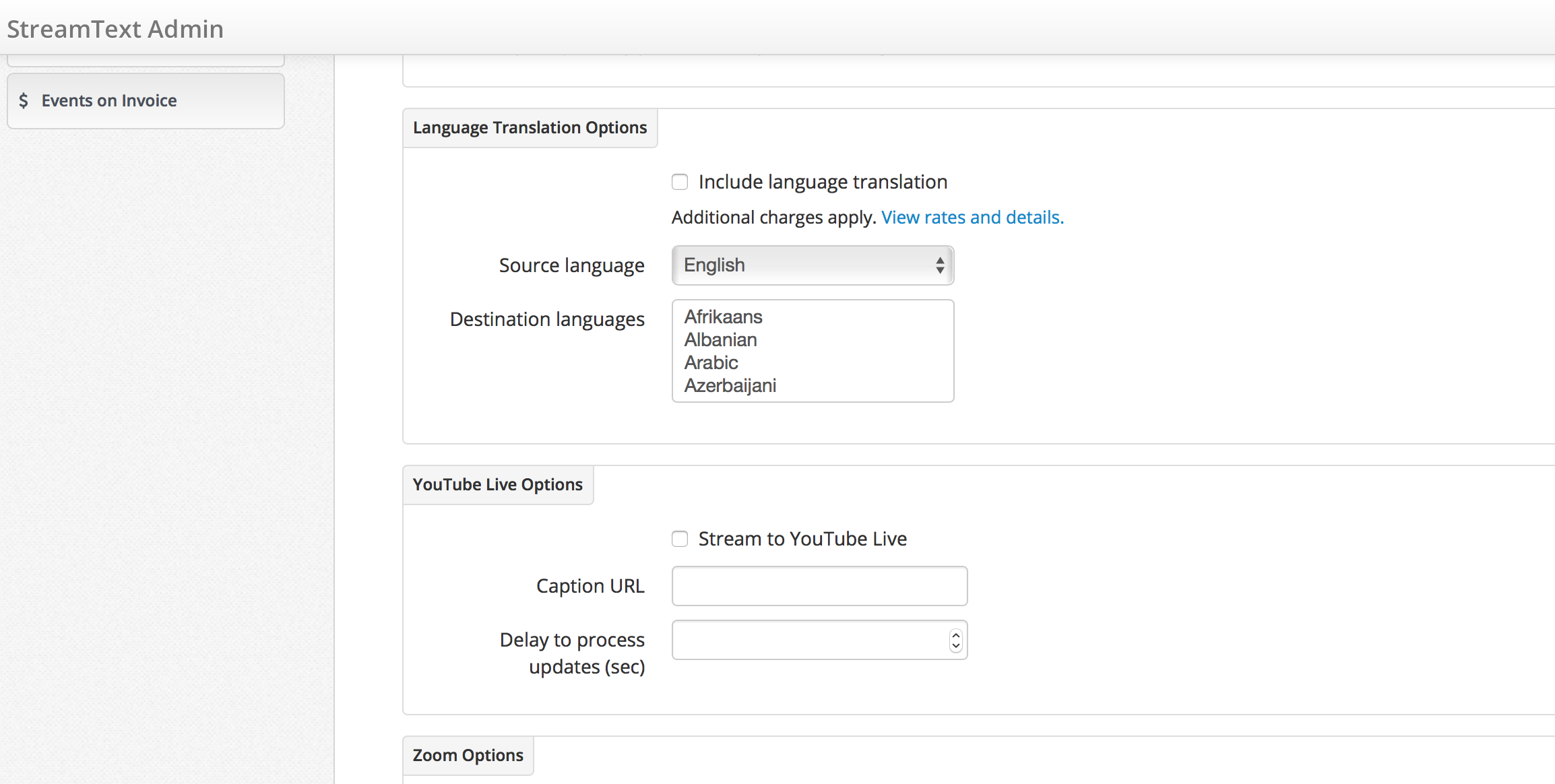 How to setup an event:
The main challenge with using the YouTube Caption interface is YouTube does not support deletes. So that means all of your translations and edits are completed before they are sent to their server. We added a feature that allows you to control how long this editing window is.
The best part is the regular StreamText link will have no delay. You can use that link for in the room services while you have a connection going to the YouTube Video with a delay. One event for both outputs!!.
To use the YouTube Caption setup you do the following:
1. The writer sets up just like they would for any normal StreamText Event. With StreamText the caption provider will setup just like a normal StreamText event.
2. Get the YouTube Ingestion URL from your client. When your client sets up their YouTube Event there is an option there to set the captioning. They will want to select the POST URL option. When they select that there will be a caption ingestion URL that will be displayed. They will need to copy that and send that to you so you . That is the value you will insert in the Caption URL form.
3. Set the delay in seconds field. The caption provider will setup like any normal StreamText event. You may end up trying a few values for this to get the best results. Typically it needs to be higher than 3 seconds to make sure all your translations and edits have completed before the text is sent out the YouTube Server. The reason for this delay is YouTube Captions does not support deletes or edits.
4. Make sure you are having the caption provider listen to live audio, not the audio through the YouTube video.
There is a significant delay of at least 15 seconds built into YouTube Captions. This means that in order to get your captions to align with the video you will not be able to listen to the video through YouTube. If you do that your captions will be far behind the video. By using the live audio you should be close but you may also need to add some delay in the StreamText event. You will need to run a test to get this aligned correctly.
These are the two main issues and we do recommend setting up a test session with your customer to get the proper delay set as well.